Surrey Pressure Washing Services

Efficient
Pressure Cleaning

Services For Commercial & Industrial Properties| Surrey, BC.
Is the build-up of algae, dirt, dust, or mould on your metal and concrete surfaces too much for you to handle? Are you in need of a cleaning service to remove this grime? Well, look no further! City Wide Environmental Cleaning is in Surrey and is ready to help you get that spotless image you've been working towards. Through the use of hot water and 100% biodegradable and environmentally friendly products, City Wide is the answer to eliminating undesirable residue from surfaces ranging from building walls and pillars to parkades and pipes. No need to worry about quality. City Wide technicians are professionally trained and fully insured. You can sit back and relax knowing your property is in the care of capable and knowledgeable hands.
Filthy Parking lot and parkade floors
Disheveled Walls and ramps
Greasy Tanks and containers
Contaminated Loading bays
Muddy Awnings and signage
Messy Sidewalks and plazas
Benefits of Pressure Washing

Industrial pressure washing service to clean surfaces soiled by oil, algae, dust, dirt, and debris in Surrey, BC, Canada.
Give a great first impression with a spotless environment
Remove toxic or unwanted contaminants
Extend the life of your pavement and exteriors
Reduce Health Risks Through Power Washing
City Wide Environmental Cleaning services reach further than just making your property a spotless and polished place. Our services can also ameliorate the health and safety conditions in and around your property. For example, If a build-up of mould is left unchecked for an extended period of time, the air quality can begin to negatively affect people's health. Through the use of power washing, City Wide can help reduce the chances of uncontrolled mould going airborne and posing a health risk to anyone exposed. Furthermore, a build-up of dust can also affect air quality and cause sneezing, coughing as well as other unwanted effects.
Improve Safety of Your Walkways & Worksites
Not only can City Wide help with improving the breathing quality of the property, but it can also remove oily surfaces that are posing slipping hazards and endangering visitors and owners alike. Oily messes can be eliminated through the use of hot water and of course environmentally friendly cleaners. Here at City Wide, we take both appearances and safety into consideration when making your property a pristine place to stay.
Our Quality Cleaning Service
There are not many cleaning methods that can match the adaptability and flexibility of pressure washing. City Wide's cleaning capabilities span a wide variety of surfaces, including, but are not limited to, parking surfaces made of concrete, aggregate, and asphalt. Even when it comes to more tender materials such as awnings and signage, our power washing methods are able to remove grime while protecting the quality of your surface. That's not all. We're also able to clean crucial building access points such as ramps and stairways, leaving a lasting first impression on those entering a property. In addition, internal spaces like rooftop patios and plazas can be rid of mud, mildew, dirt and grime. We are even capable of removing oil and algae using a biodegradable degreaser, as well as graffiti from walls using high-pressure water blasts, leaving your surfaces clean, pristine, and ready for use.
Want To Talk To A City Wide Expert?
Heard enough about how City Wide can benefit you? Are you looking for more information on which services would be best for your property? Get in contact with experts and get started on your path to a better and cleaner property today.
Why Choose CityWide's Surrey Pressure Washing?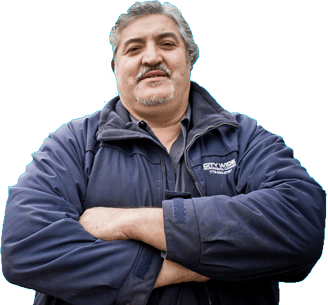 Environmentally friendly chemicals
We use biodegradable and environmentally friendly products.
Fully insured and WCB certified
City Wide has certifications to handle any service you require.
Trained and experienced technicians
Our technicians are trained, professional, and fully insured.
30 years in operation
With over 30 years in the industry, we're trusted by hundreds of established businesses.
 ★★★★★ 
"These guys are awesome! They did the line painting and asphalt/concrete repairs throughout our complex. They were prompt, courteous and did an amazing job. "
-Ifraz Khan
 ★★★★★ 
"The owner is incredible and very professional. Great customer service. Glad doing business with you guys. "
-Foad Heidari
 ★★★★★ 
"I've hired a lot of cleaning companies, but CityWide is the best I've dealt with.
They have an attention to detail that the other companies were lacking."
-Ivor Klein
Facebook Review
604-836-5156
Book a Surrey Pressure Washing Service Appointment
Our team of certified pressure washers equipped with our industrial-grade power cleaning equipment can take on anything. Contact our Surrey specialists today!
Other Pressure Washing Service Locations