Vancouver Graffiti Removal Services

City Wide
Graffiti Removal

in Vancouver, BC.
Graffiti – ugly marking made by vandals with paint, markers and other hard to remove materials is a scourge you'll find in just about any urban area.  Vancouver and the rest of BC's lower mainland are no exception.  
City Wide Environmental Cleaning Services has the equipment and expertise to not only remove graffiti from walls, doors, windows and other surfaces around your property.  Our trained technicians will use high-pressure water and other methods to remove unwanted markings from your buildings, walls, and parking lots.  A building free from "tags" and other ugly markings will be far more inviting to your customers, tenants, clients, and visitors.  Unwanted marks of all kinds, including tape and sticker residue and discarded chewing gum will be removed using our industrial-grade process.
Remove graffiti from walls, doors, and windows
Unsightly graffiti can be negatively impacting your business. Improve the impression of your storefront or building with a clean exterior.
Prevent vandalism with our anti-graffiti coating system.
Coat your exterior with our specialized anti-graffiti coatings to prevent future vandalism and protect your business' building.
Remove tire marks, gum, and other unwanted markings.
We help erase marks of all kinds, including stuck-on materials. sticky substances, like gum, and other marks can all be removed with our industrial-grade equipment.
Specialized Anti-Graffiti Coating
We can also help prevent further vandalism by applying a  specialized anti-graffiti coating to these surfaces, which will make them very hard to mark up, and much easier to clean afterward.
Graffiti Removal Benefits

Graffiti removal solutions for Vancouver's residential, commercial, or governmental properties
Keep a great customer appeal with a clean building exterior
Clean unattractive graffiti from walls, windows, doors, and more.
Remove markings and substances to preserve storefront professionalism.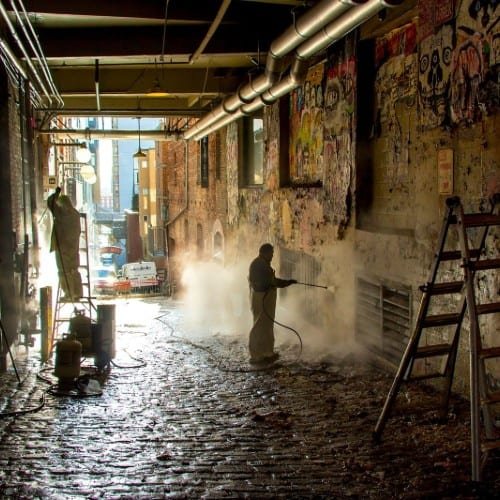 Property Maintenance Services For Over Three Decades
We've been providing property maintenance services to homeowners, businesses, commercial and government services here in Vancouver for more than three decades.  We take great pride in helping our customers with prompt, courteous, and professional service.  To protect our environment, we use the most environmentally friendly cleaning solutions, products, and processes possible.  All of our technicians receive extensive training to perform all of our services and are armed with the right equipment to do the job.  
City Wide Environmental Cleaning is fully insured and WCB certified.  We've been proudly serving customers for 30+ years, and are proud of our record.  We have hundreds of 5-star reviews from property owners and managers, and won't rest until our clients are fully satisfied.
Improve your property, and improve the profitability of your business by putting your best foot forward.  Contact City Wide Environmental Cleaning today, and receive a free estimate for any of the services you require, including graffiti removal.
We're Vancouver's property maintenance specialists!
Why Choose CityWide's Vancouver Graffiti Removal Services?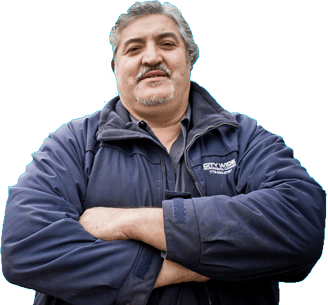 Environmentally friendly chemicals
We use biodegradable and environmentally friendly products.
Fully insured and WCB certified
City Wide has certifications to handle any service you require.
Trained and experienced technicians
Our technicians are trained, professional, and fully insured.
30 years in operation
With over 30 years in the industry, we're trusted by hundreds of established businesses.
 ★★★★★ 
"These guys are awesome! They did the line painting and asphalt/concrete repairs throughout our complex. They were prompt, courteous and did an amazing job. "
-Ifraz Khan
 ★★★★★ 
"The owner is incredible and very professional. Great customer service. Glad doing business with you guys. "
-Foad Heidari
 ★★★★★ 
"I've hired a lot of cleaning companies, but CityWide is the best I've dealt with.
They have an attention to detail that the other companies were lacking."
-Ivor Klein
Facebook Review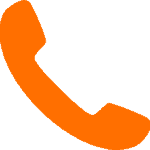 Book a Vancouver Graffiti Removal Service Appointment
Power-wash away unwanted markings outside of your building. City Wide helps keep homes, businesses and more looking their best year-round. Contact our Vancouver representatives!
Other Graffiti Removal Service Locations